Kris Kristofferson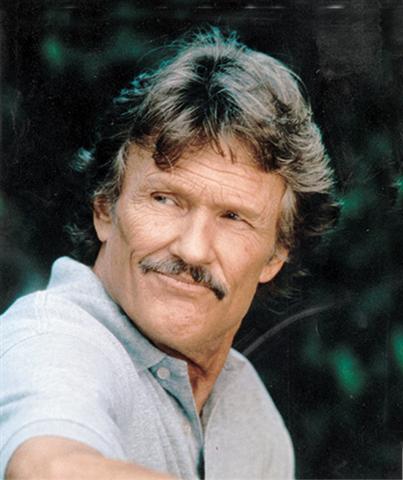 Movie Star. Groundbreaking songwriter. Grammy-winning recording artist. Few Texans of any generation have exhibited the multiple talents of Kris Kristofferson.
The son of a U.S. Air Force major general, Kris was born in Brownsville, Texas on June 22, 1936. In school he was an excellent student and athlete. Kris boxed and played football at California's Pomona College where he majored in creative writing and published award-winning short stories in the prestigious Atlantic Monthly. After graduation in 1958, he won a Rhodes Scholarship to Oxford University in England, earning a Master's Degree in English. Obtaining an Army commission, Kris attended ranger school, jump school and flight school. He served in Germany as a helicopter pilot, was appointed to the English faculty at West Point, and left the Army in 1965 as a captain.
While studying at Oxford, Kris had written rock 'n roll songs for an English producer. He continued to write after leaving the Army, and in 1969 Roger Miller recorded a number of his songs, including Me and Bobby McGee. When Janis Joplin covered this song, it sold a million copies. In 1970 Ray Price scored a Number One hit and won a Grammy with For the Good Times, and Johnny Cash turned Sunday Mornin' Comin' Down into a Number One smash. The next year Sammi Smith brought Help Me Make it Through the Night to the top of the charts. The CMA voted it Single of the Year, and Kris won his first Grammy Award for Best Country Song. In 1973 Ronnie Milsap recorded a Number One hit with Please Don't Tell Me How the Story Ends.
A popular live performer, in 1973 Kris enjoyed a Number One hit as a solo artist with Why Me. That same year his albums, The Silver Tongued Devil and I, and Jesus was a Capricorn were certified Gold. In 1974 his album, Me and Bobby McGee, went Gold. In 1978 his compilation album, Songs of Kristofferson, also went Gold.
Kris married pop singer Rita Coolidge in 1973, and the couple recorded several albums. Their debut album, Full Moon, was certified Gold in 1975. In 1973 and 1975 they earned Grammys for Best Country Vocal Performance by a Duo or Group: From the Bottle to the Bottom and two years later, Lover Please.
Kris sang backup to Willie Nelson during the 1979 recording sessions which produced the album Willie Nelson Sings Kristofferson. In 1984 Kris and Willie recorded the album Music From 'Songwriter.' The next year Kris, Willie, Waylon Jennings and Johnny Cash formed a superstar quartet to record Highwayman, an album which went Gold in 1986.
With his rugged good looks, lean physique and gravel voice, Kris was a natural for the movies. His film debut came in 1971, in Dennis Hopper's The Last Movie, and he went on to star in more than twenty motion pictures. He played a famous outlaw in Pat Garrett and Bill the Kid (1973). When he co-starred with Barbra Streisand in a remake of A Star is Born (1976), Kris provided the soundtrack music. The soundtrack album went Gold that year and Platinum the next, eventually selling more than four million copies. Married three times, Kris is the father of eight children. He makes his home in Southern California and continues to practice his exceptional gifts as a musician and actor.
---
Lefty Frizzell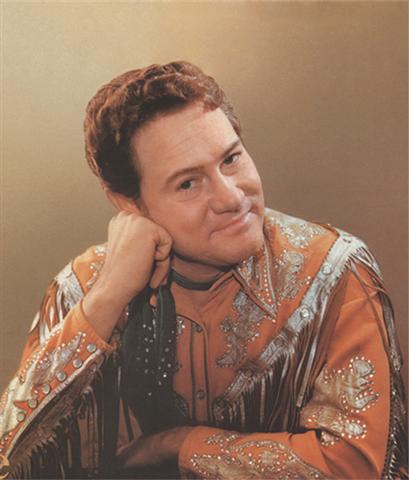 William Orville R.C. Firzzell was born on March 31, 1928, in Corsicana, Texas, the first of eight children. His father, Naaman Orville R.C. Frizzell, was an oil field worker who moved his growing family to El Dorado, Arkansas when his oldest boy, "Sonny," was fourteen. Soon goaded into a schoolyard fight, the new kid beat his opponent with a devastating left hand, and Sonny Frizzell acquired the nickname "Lefty."
By this time the teenager, attracted to country music by the Jimmie Rodgers records of his parents, was singing professionally. Lefty landed a radio job at KELD in El Dorado, and when the family moved back to Texas, he took a similar gig on KPLT in Paris. Lefty regularly played dances and nightclubs, and he began appearing on KGFL in Roswell, New Mexico. But his promising musical career was interrupted by a run-in with the law, and Lefty went to work with his father in the oil fields. Soon he gravitated back to music, by 1950 settling in at the Ace of Clubs in San Angelo, where he developed an enthusiastic fan base.
During 1950 Lefty signed with Columbia Records. His first session produced, If You've Got the Money, I've Got the Time and I Love You a Thousand Ways. Both sides of this first record reached Number One, and Lefty's career soared meteorically. In 1951 he organized a backup group, the Western Cherokees. For a time Lefty had four recordings in the Top Ten, a feat that has never been surpassed. I Want to Be with You Always on this third record, spent eleven weeks at Number One, and his next release Always Late (With Your Kisses) was at Number One for twelve weeks.
Moving to Los Angeles, he became a regular on Tex Ritter's television show, Town Hall Party. Lefty's younger brother, David, hitchhiked to California. Lefty hired him and arranged a recording contract with Columbia, and eventually David Frizzell became a star in his own right. Lefty composed 300 songs, but few of his recordings were hits after 1952. Although still immensely popular on the road, he spent money as rapidly as he earned it. Lefty and his wife, Alice, had four children. Not long after Town Hall Party ended in 1960, Lefty moved his family to Nashville. Even though his career lacked direction, Saginaw, Michigan spent four weeks at Number One in 1964. It was Lefty's last big hit. In addition to a drinking problem, he developed high blood pressure. But he refused to take blood pressure medicine and on July 19, 1975, he died of a stroke in Nashville at the age of forty-seven.
"Lefty Frizzell was the definitive honky tonk singer, the vocalist that set the style for generations of vocalists that followed him," according to Stephen Thomas Erlewine in All Music Guide to Country. "Frizzell smoothed out the rough edges of honky tonk by singing longer, flowing phrases - essentially, he made honky tonk more acceptable for the mainstream without losing its gritty bar-room roots...Frizzell's singing became the foundation of how hard country should be sung."
---
Johnny Bush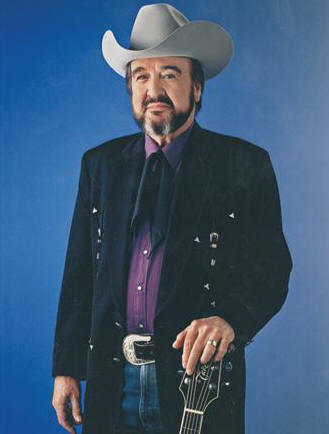 "If I wasn't getting paid for this, I'd be doing it anyway," stated singer-songwriter-instrumentalist Johnny Bush. "It's what I do." He began doing it as a boy. Born John Bush Shin, III in Houston on February 17, 1935, he grew up listening to his father and other relatives and friends make music in the Shin home. They sang and played guitars and fiddles, and Johnny avidly listened to country music over the radio. "I would go to the movies on Saturdays and hear Roy Rogers sing," reminisced Johnny, "and I thought, that's me boy."
Johnny's father taught him guitar chords when he was ten, and within two years he was singing and playing in public. In 1952, when Johnny was seventeen, he landed a gig performing with The Texas Star Playboys every weekend at The Texas Star Inn in San Antonio and on a local country television show. One night the drummer failed to show up and Johnny was pressed into service. He quickly took to the drum set. "I found out there was a shortage of drummers," explained Johnny. "Everybody sang and played guitar. But a drummer could work."
Soon the band hired a young guitarist named Willie Nelson, and Johnny and Willie became lifelong friends. Johnny went on to play and sing with Texas legends Bob Wills and Lefty Frizzell, working barrooms and dancehalls and honky tonks. When Willie Nelson formed his first band, The Offenders, Johnny came aboard as his drummer. Johnny gravitated to Nashville and joined Ray Price's band, the Cherokee Cowboys. Working closely with Price for three years, he was strongly influenced by Ray's singing style. Indeed, when Johnny tried to land a recording contract, one label after another felt that he sounded too much like Price.
But Willie Nelson financed Johnny's first album, Sound of a Heartache. In 1967 Johnny enjoyed his first hit, You Oughta Hear Me Cry. There were three hits the next year, including Undo the Right, which broke the Top Ten. After reaching the Top Twenty in 1972 with I'll Be There, Johnny signed a recording contract with RCA. The powerhouse label intended to showcase the promising vocalist who was nicknamed "The Country Caruso." Asked to provide songs for his first album with RCA, Johnny was returning to Texas from Nashville in his tour bus. Awakening in Texarkana, the lines of Whiskey River began to run through his mind. His recording broke the Top Ten in 1972. Willie Nelson later adopted Whiskey River as his theme song, making more than twenty different recordings.
But in 1972, on the verge of stardom, Johnny was stricken with a mysterious, debilitating condition that produced spasms in his vocal cords. Johnny consulted numerous specialists, even seeing a psychiatrist and a chiropractor, but his voice rapidly worsened. He could speak only in a strangled whisper. RCA dropped him from their label. Finally, after several nightmarish years, a San Antonio speech therapist diagnosed his affliction as Spasmodic Dysponia, a rare neurological condition which causes the vocal cords to short circuit. Although told that there was no cure, in 1985 Johnny began to work with Gary Catona, a University of Texas vocal teacher. Employing a variety of innovative techniques, Catona produced dramatic improvement in Johnny's vocal capabilities. Based on this success, Catona went on to work with a parade of famous clients: Liza Minelli, Tony Bennett, Paula Abdul, Brian Wilson, Andy Williams, Shirley MacLaine, Jack Klugman, Kevin Spacey and Mohammed Ali.
Regaining perhaps 80 percent of his previous vocal abilities, Johnny eagerly resumed his performing and recording career and began earning a variety of comeback awards. "I think that God put this on me for a reason, and I think that reason is to help others." Having picked up a career that seemed lost, Johnny bristles when asked about retirement. "Retire from what? Breathing? People only retire from jobs they hate. Performing is not a job. It's what I do."