Ray Price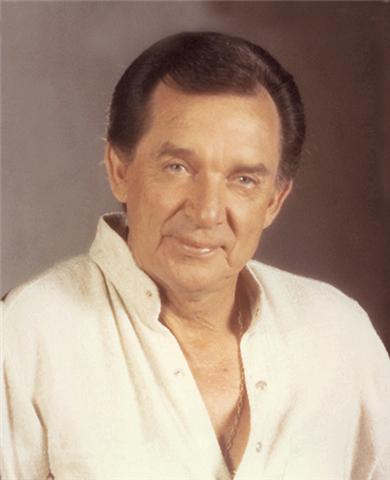 From 1952 through 1982 the velvet voice of Ray Price recorded more than eighty hits that soared into the Country Music Top Forty, along with numerous crossover hits. The memorable artistry of Price has included notable innovations, and when he was voted into the Country Music Hall of Fame in 1996, there was widespread feeling that the honor was long overdue.
Ray Noble Price was born in East Texas, at little Perryville, southeast of Winnsboro, on January 12, 1926. When he was four his parents divorced and his mother moved with little Ray to Dallas. When Ray graduated from Adamson High School in Dallas, World War II was raging. The eighteen-year-old enlisted in the U.S. Marines in 1944, serving in the Pacific. Discharged in 1946, he enrolled in a Dallas-area college, intending to become a veterinarian. But his musical talents led to college gigs and other local dates. By 1948, billing himself as "The Cherokee Kid" (soon changed to the "Cherokee Cowboy"), Ray joined Abilene's Hillbilly Jamboree, broadcast over KRBC Radio. The next year he moved to the Big D Jamboree, which was nationally telecast over Dallas' CBS affiliate. Ray made his first recordings over the Dallas-based Bullet label, but he signed with Columbia in 1951.
By this time he had become close friends with his idol, Hank Williams, who wrote a song, "Weary Blues," for Ray. This connection with Hank Williams was instrumental in Ray's invitation to join the Grand Ole Opry in 1952, the year his recordings began to reach the charts. After Hank's death early in 1953, his Drifting Cowboys became Ray's backup band, and the young artist patterned himself stylistically after Williams. But one night an audience member told him, "Ray, you sound more like ol' Hank every time I hear you." Ray realized he needed to find his own sound, and the rest of his career would be a musical adventure. Dismissing the Drifting Cowboys, he formed a new band, the Cherokee Cowboys. Notable artists who, at one time or another, were members of the Cherokee Cowboys have included Willie Nelson, Roger Miller, and Johnny Paycheck.
Within a year Ray added a drum set to the Cherokee Cowboys. Although Bob Wills used drums with his famous dance band, country bands of the era did not include drums, "and certainly not on the Grand Ole Opry," recalled Price. But by introducing drums, his band was able to emphasize the "Ray Price Beat," a distinctive shuffle-beat that quickly spread throughout Country Music. Country Music fans thought that Ray Price and his band were becoming Rockabilly, like Elvis and Carl Perkins. But in 1956, Ray's "Crazy Arms" spent forty-five weeks on the Country charts, including twenty weeks at Number One. As he reeled off one hit after another, the "Ray Price Beat" became the standard country sound.
By the 1960s Ray began slipping strings into such country hits as "Make the World Go Away" and "Burning Memories." In 1967 he was backed by forty-seven pieces when he recorded "Danny Boy." Although some country deejays boycotted him, "Danny Boy" broke the Top Ten. In 1970 there were more strings when Ray covered Kris Kristofferson's "For the Good Times," which reached Number One and also hit the Pop charts. Now in his 80's, this innovative stylist still leaves his East Texas ranch and wife of three decades to record and to perform 100 dates per year.
---
Billy Walker
In 1942, thirteen-year-old farmboy Billy Walker picked more than 320 pounds of cotton in one grueling day. Rewarded by his father with a quarter, Billy treated himself to a Gene Autry movie, Cowboy Serenade. "That movie hooked me on show business," reminisced Billy half a century later. "That's where I wanted to be."
Show business offered escape from a difficult upbringing. Billy Marvin Walker was born on a West Texas farm near Ralls on January 14, 1929. Billy was one of eight children, but when he was four his mother died while trying to give birth to a ninth baby. It was the heart of the Great Depression, and Billy's father was forced to place his three youngest children--Jerry, Billy and Delmar--in a Methodist orphanage in Waco. Billy hated life in an orphanage dormitory. "It was like being in prison." After a few years the family was reunited, but life on a West Texas cotton farm was hard. "I made spending money by plucking turkeys for between three and eight cents a bird," he recalled. After seeing Cowboy Serenade, Billy saved enough money to buy a guitar for $3.25 and an instruction book for another quarter. "From then on, I practiced and worked on songs every spare minute."
When he was fifteen, Billy won a talent competition in Ralls. He was awarded three dollars and a chocolate cake--and a fifteen-minute show on Saturday mornings at a New Mexico radio station. There was no pay, only exposure and experience, but Billy eagerly hitch-hiked eighty miles each way on Saturdays. After high school, Billy advanced quickly, soon forming his own trio. "When I was nineteen," he related, "Hank Thompson hired me as his opening act, which led to a Capitol Records recording contract."
Billing himself as "The Traveling Texan," he joined the Big D Jamboree from KRLD Radio in Dallas. Topping out at six foot-three, he also would be known as "The Tall Texan," and eventually Billy would develop a Tall Texan record label. From 1952 through 1955 he was a member of Shreveport's prestigious Louisiana Hayride, touring with such Hayride stars as Hank Williams, Webb Pierce, and Faron Young. Billy was part of the last tour with Williams before Hank died, and he was present when young Elvis Presley debuted with the Hayride.
Billy first hit the charts in 1954, and through the years he enjoyed thirty-four Top Ten Hits. In 1962 his single, "Charlie's Shoes," reached Number One and stayed on the charts for five months. He was voted by Billboard as one of the Top Twenty most played artists during the period 1950-1970. In 1960 Billy became a member of the Grand Ole Opry, remaining one of its most loyal participants. Three years later, because of a family emergency, Billy and Hawkshaw Hawkins traded flights. Billy flew safely to Nashville, but a few hours later the small plane carrying Hawkshaw, Cowboy Copas, and Patsy Cline crashed, killing all aboard.
In the 1970s Billy, backed by his group the Tennessee Walkers, headlined his own television show, Country Music Carousel. He appeared on the Jimmy Dean Show, The Statler Brothers Show, Hee Haw, and many other TV shows. Billy is the father of six daughters and is happily married to Bettie Walker who runs Billy Walker Enterprises from their suburban home near Nashville.
---
Stuart Hamblen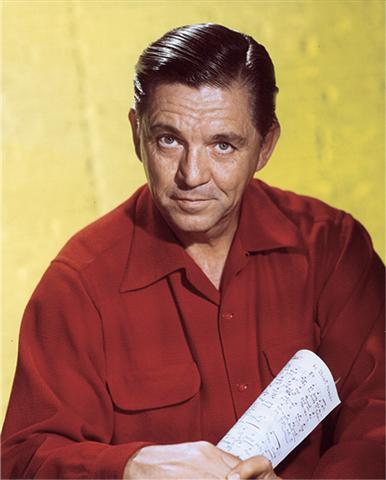 "When you see me fall asleep, say amen but don't you weep. I've got so many million years that I can't count them." This expression of deep religious belief came from an East Texas preacher's son who, as a Hollywood performer, strayed far from his boyhood faith, then returned. Carl Stuart Hamblen was born at Kellyville, west of Jefferson, Texas, on October 20, 1908. His father was an itinerant preacher, and Stuart learned to love outdoor life while traveling with him. Enrolling at a Methodist institution in Abilene, McMurry College, Stuart soon became a singing cowboy on KAYO Radio in Abilene. Three years later, in 1929 he won a talent contest in Dallas.
With his $100 cash prize, Stuart traveled to the East Coast, recording four songs for the forerunner of RCA Victor. Then he ventured across the country to Hollywood, where he became a member of the early Western singing group, the Beverly Hill Billies. Soon he became a West Coast radio star, headlining such programs as Stuart Hamblen and His Lucky Stars, Covered Wagon Jubilee, and His Woolly West Review. During the 1930s and 1940s he appeared in Western movies with Gene Autry, Roy Rogers, Wild Bill Elliott, and Don "Red" Barry. In 1945 he joined the cast of Flame of the Barbary Coast, starring John Wayne.
Although he married in 1933, Stuart drank, gambled, brawled, and wrote such songs as, "I Won't Go Huntin' With Ya, Jake, But I'll Go Chasin' Women." His lovely and devoted wife, Suzy, prayed fervently for him, and Stuart finally experienced a religious conversion at the Canvas Cathedral in Los Angeles, during the 1949 crusade which brought evangelist Billy Graham nationwide fame. This spiritual turnaround was instrumental in his growing success. Stuart stopped drinking and ran for president of the Prohibition Party in 1952. He began writing gospel songs and starred in a Sunday morning radio show, Cowboy Church of the Air. When Stuart encountered John Wayne on the street, the movie star asked, "What's this I hear about you, Stuart?" "Well, Duke," answered the transformed Hamblen, "I guess it's no secret what God can do." Wayne commented, "Sounds like a song."
John Wayne's casual remark was a creative inspiration for Hamblen, who composed a Gospel classic, "It Is No Secret." Stuart wrote more than 225 other songs, including such hits as "Remember Me," "I'm the One Who Loves you," "Open Up Your Heart and Let the Sunshine In," and "Teach Me, Lord, To Wait." His songs were recorded by such artists as Elvis Presley, Johnny Cash, Pat Boone, Eddy Arnold, Hank Snow, and Ernest Tubb. His biggest hit was "This Ole House." Recorded by Rosemary Clooney, it was Number One simultaneously in seven different countries, and was voted the 1954 Song of the Year.
In 1970 Stuart was inducted as a charter member of the Nashville Songwriters Hall of Fame. The next year the Academy of Country and Western Music honored him with its Pioneer Award for being the "first singing Country and Western Cowboy in the history of broadcasting." In 1976 he was awarded a star on the Hollywood Boulevard Walk of Fame, and in 1988 he received a Golden Boot Award for his work in motion pictures. Stuart and Suzy made their family home at a horse ranch just outside Los Angeles. He died at the age of eighty on March 8, 1989.