Ernest Tubb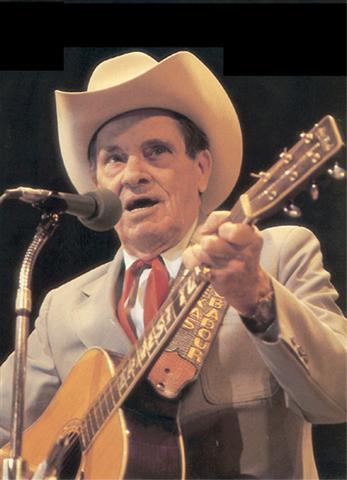 Ernest Dale Tubb was born in 1914 on a farm in Ellis County, Texas. Captivated by the recordings of Jimmie Rodgers, he learned to play guitar, met Jimmie's widow, and yodeled and sang like the "Singing Brakeman." But the Jimmie Rodgers style did not suit ET, and when he had his tonsils removed in 1939 he could no longer yodel. As his voice changed, he developed a nasal, twangy singing style that would be distinctively Ernest Tubb. By 1940 ET's personal appearances were increasingly popular, he had a radio show on a Fort Worth station, and he was recording for Decca.
In 1941 ET enjoyed an enormous hit, "Walking the Floor Over You," which eventually sold more than a million copies. ET moved to Nashville in 1941 as a member of the Grand Ole Opry. He became the first entertainer to use an electric guitar on the Opry. Now known as the "Texas Troubadour," ET used his growing popularity to shift the emphasis on C&W from Hillbilly to Western. In 1947 ET opened the Ernest Tubb Record Shop around the corner from the Ryman Auditorium, home of the Grand Ole Opry. A live broadcast, the Midnight Jamboree Radio Show, emanated from ET's shop after each Saturday night Opry show. Also in 1947, ET became the first Country artist to play New York's Carnegie Hall.
Tubb and his band, the Texas Troubadours, recorded one hit after another. Of 54 singles recorded in the 15 years after 1944, only four failed to crack the Top Ten, and these four made the Top Fifteen. "Have You Ever Been Lonely" was one of the thirteen hit singles in 1949. His favorite song, "Waltz Across Texas," was recorded in 1964. The Texas Troubadour was elected to the CMA Hall of Fame in 1965, and later he was inducted into the CMA and the Nashville Songwriters Hall of Fame. Even after contracting emphysema, he continued to make over 200 personal appearances a year, carrying an oxygen tank on his bus. After each performance the Texas Troubadour was the last person to leave the auditorium, shaking hands and signing autographs with every fan who wanted to stay. Health problems finally halted his performances in 1982, and he died two years later.
---
Hank Thompson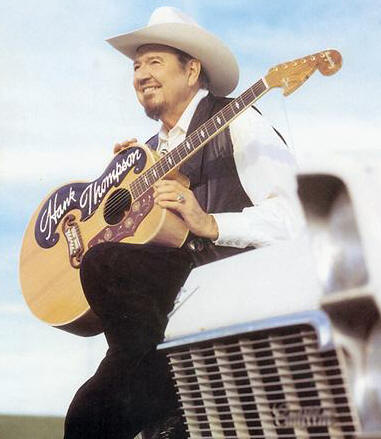 Hank Thompson was born in 1925 beside the Brazos River in Waco. He grew up listening to the Grand Ole Opry and to country artists on 78 records. As a boy he won talent contests with his harmonica. But after watching a Gene Autry movie, he yearned to play the guitar. His parents bought a second-hand guitar for four dollars as a Christmas present.
"A lot of people heard Hank Thompson for the first time on ships," he reminisced. "They didn't have much choice unless they wanted to jump overboard." After the war Hank used the GI Bill to attend Princeton, SMU and the University of Texas. When he returned to Waco, he landed a noontime radio show, then organized a band, The Brazos Valley Boys. Tex Ritter, at the height of his popularity, heard Hank and the Brazos Valley Boys and arranged a contract with Capitol Records. Hank immediately recorded hits with "Humpty-Dumpty Heart" and "Today." Hank would chart hits in five different decades, including "The Wild Side of Life," "Rub-a-Dub," "Smokey the Bear," "The Older the Violin, the Sweeter the Music," and "A Six Pack to Go." Hank would eventually sell over 60 million records.
From 1953 to 1965, for thirteen consecutive years, Billboard magazine voted The Brazos Valley Boys the Number One Country Western Band. As a result of his electronics experience in the Navy, Hank and The Brazos Valley Boys were the first music act to tour with a sound and lighting system. Hank was the first Country music artist to play Las Vegas, and his Live at the Golden Nugget was the first "live" Country album ever recorded. When Hank turned to television, The Hank Thompson Show was the first color telecast of a variety show. Although Hank broke away from The Grand Ole Opry in the early 1950s, he was a 1989 inductee into the CMA Hall of Fame.
---
Waylon Jennings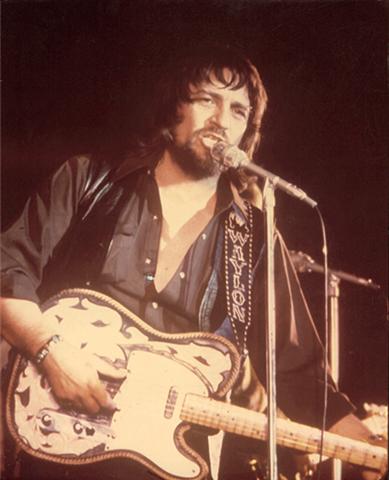 "My music ain't no Nashville sound. It's my kind of country. It's not Western. It's Waylon." Waylon has sold more than 40 million records worldwide. His powerful voice and personality have put a strong stamp on Country music, which owes much of its broad appeal and rugged individualism to the artist often called "Hoss." Throughout the highs and lows of a long career, Waylon has remained true to himself and his musical vision.
Waylon Jennings was born in 1937 in Littlefield in West Texas. He learned to play the guitar by the age of eight. At twelve, he organized his first band, and at fourteen he became a disc jockey in Littlefield. Waylon met Buddy Holly and became bass player for the Crickets a few months before Buddy's death. Indeed, Waylon was scheduled to fly with Buddy on the fatal 1959 flight, but the Big Bopper persuaded Waylon to give up his seat on the doomed plane. Badly shaken by Buddy's death, Waylon returned to Lubbock to work as a DJ. "Mainly what I learned from Buddy was an attitude," recalled Waylon. "He loved music, and he taught me that it shouldn't have any barriers to it."
During the early 1960s Waylon pursued a performing career in Phoenix, then Los Angeles, and finally Nashville. In Nashville he moved in with another struggling performer, Johnny Cash. Waylon recorded several songs by an aspiring songwriter named Kris Kristofferson and he collaborated with Willie Nelson. But even as he began to experience success, Waylon felt confined by the Nashville Sound. "Every business has a system that works for 80 percent of the people who are in it," explained Waylon, "but there's always that other 20 percent who just don't fit in. "That's what happened to me, and it happened to Willie Nelson. We just couldn't do it the way it was set up. It wasn't until I started producing my own records and using my own musicians and working with people who understood what I was about that I first started having any real success."
Waylon's success was explosive. Recording with his own band and producing his own records, he moved outside the Nashville Sound ("outlaw music") and developed muscular Country music with deep appeal. Along with his wife Jessi Colter, and Willie Nelson, Waylon teamed up for "Wanted: The Outlaw"--the first platinum album ever recorded in Nashville. A string of Number One singles included "Are You Sure Hank Done It This Way" and "Luckenbach, Texas." In 1975 Waylon was named CMA Male Vocalist of the Year.
Through the years there have been thirteen gold albums, including eight in a row. "'Ol Waylon," released in 1977, became the first Country album by a solo artist to go platinum. His "Greatest Hits," two years later, entered new territory by going quadruple platinum.