The Gatlin Brothers - Larry, Steve, Rudy
Six year old Larry Wayne Gatlin was scheduled to sing at the 1955 Cavalcade of Talent held in Abilene, Texas. Larry's sister, LaDonna, had heard him singing with their little brothers and she persuaded their mother to put all three brothers onstage. Larry was joined by four-year-old Steve and two-year-old Rudy in the first public performance of the Gatlin Brothers. The next year the Gatlin Brothers won the Cavalcade of Talent--the beginning of a lifetime of triumphs of the musically gifted trio. The Gatlins were West Texans. Larry was born in Seminole on May 2, 1948. Steven Daryl and Rudy Michael both were born in Olney, on April 4, 1951, and August 20, 1952. The brothers grew up with church music, while their father, an oil driller, frequently took their family to gospel "sings." The Gatlins admired the close harmony of the gospel groups. At church events, Larry sang the lead while his brothers harmonized behind him, and in time each brother would take the lead. Throughout boyhood the Gatlin brothers sang at churches and on local radio and television shows.
As teenagers they recorded a religious album for an independent label. A star athlete in high school, Larry won a football scholarship to the University of Houston. He majored in English, which aided his growing ability as a songwriter. After college Larry joined the Imperials, a group which featured gospel music and which had backed Elvis Presley. The Imperials now worked with Jimmy Dean's Las Vegas show and in Vegas Larry met Dottie West. After Larry sent her a tape with eight of his original songs, Dottie responded with a plane ticket to Nashville. In Nashville Larry sang backup on Kris Kristofferson recordings, Dottie West recorded two of his songs and Kristofferson also covered his material. Elvis Presley, Johnny Cash, Barbra Streisand and Tom Jones are among the artists who would record Larry Gatlin songs.
While Larry was launching his music career, Steve and Rudy were earning degrees at Texas Tech. Steve took a B.S. in elementary education and Rudy graduated with a B.A. in business administration. Steve and Rudy teamed up with their sister, LaDonna, and her husband, Tim, forming a group called Young Country. For a year Young Country toured with Tammy Wynette, opening and singing backup for the C&W superstar. Meanwhile, Kris Kristofferson helped Larry land a recording contract with Monument Records in 1973. Larry brought in Steve and Rudy to record with him. The debut album, The Pilgrim, was released early in 1974. The third album, Larry Gatlin and Friends, featured "Broke Lady" which won a Grammy for Best Country Song in 1976. In 1979 the brothers became known as Larry Gatlin and the Gatlin Brothers Band. Larry played guitar, Steve handled the bass guitar and Rudy played acoustic guitar. "All the Gold in California," soared to No. 1 and was named Song of the Year for 1979 by the Academy of Country Music. Other top hits include, "Houston (Means One Day Closer to You)," What Are We Doin' Lonesome," "Take Me to Your Lovin' Place," "Sure Feels Like Love," "She Used to be Somebody's Baby," "Talkin' to the Moon," and "Love of a Lifetime."
---
Billy Joe Shaver - Honky Tonk Hero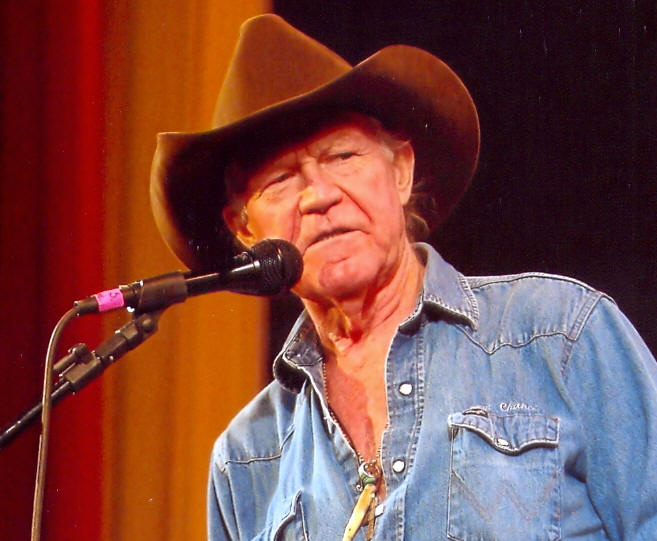 "To me, the song is poetry," reflected songwriter-performer Billy Joe Shaver. "It's the way I describe the world around me, make sense of it. When I lost my fingers, Jesus made it clear to me that writing songs is my mission in life. I've stayed true to that ever since, and I always will. I believe my songs will live long after I'm gone." Shaver's songs have been recorded by an impressive array of artists, including Willie Nelson, Waylon Jennings, Elvis Presley, Patty Loveless, the Oak Ridge Boys, Tom T. Hall, and Bob Dylan. "He's as real a writer as Hemingway," said Kris Kristofferson. "He's timeless."
Born in Corsicana on September 15, 1941, he was abandoned by his father before his birth. As an infant Billy Joe was left with his impoverished grandmother when his mother moved to Waco. He spend boyhood summers chopping cotton on farms outside Corsicana. Billy Joe's grandmother died when he was twelve. He moved to his mother's home near Waco, but clashed with her new husband. The unhappy youngster spent a great deal of time away from home at the honky tonk where his mother worked or at a nearby hobo camp. Billy Joe picked up rough habits and was often in trouble for fighting. He quit school in the eighth grade, but not before impressing an English teacher with his talent for writing verse. He never forgot her encouragement. "As long as you are honest with what you write, you will always have something special to say."
At seventeen he enlisted in the US Navy. Following his discharge, he returned to Waco and soon met Brenda Tindell. They married and had a son, Eddy. Billy Joe worked at a sawmill and cowboyed on the ranch of his father-in-law. Although an accident at the sawmill cost him parts of three fingers on his right hand, he continued to play guitar. Shaver played and sang in honky tonks, and several times he traveled to Nashville to try to sell the songs he was writing. His marriage became strained, and Billy Joe and Brenda divorced, then remarried, divorced, and remarried again. Shaver drank heavily and abused drugs. But his personal travails provided heartfelt material for his songs, which rang true for country music fans. Willie Nelson described his gifted friend: "Billy Joe Shaver may be the best songwriter alive today."