Mickey Gilley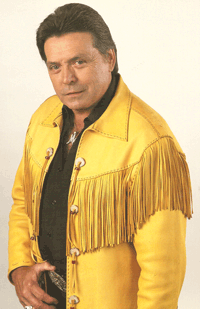 "Room Full of Roses," Stand By Me," "City Lights," "She's Pulling Me Back Again," "Lonely Nights," "You've Really Got a Hold on Me," "Don't the Girls All Get Prettier At Closing Time." All of these memorable songs and many more were No. 1 hits for Mickey Gilley. During a 10-year period, 1974-1983, Gilley recorded 17 No. 1 releases, including six in a row in 1980 and 1981. Several of these hits crossed over to the pop charts, making Mickey a leader of the "Countrypolitan" genre. And throughout this period of superstardom, the award-winning pianist-singer presided over "The World's Biggest Honky Tonk," Gilley's, in Pasadena, Texas. Mickey Leroy Gilley was born on March 9, 1936, in Natchez, Mississippi. The family home was across the Mississippi River in Ferriday, Louisiana. Mickey grew up playing the piano with his cousins Jerry Lee Lewis and Jimmy Swaggart. The three cousins played boogie woogie in high school and gospel music at Ferriday's Assembly of God Church. At the age of 17 Mickey left school to move to Houston and find construction work. But when his cousin, Jerry Lee Lewis, scored a hit with his first recording, "Crazy Arms," Mickey decided to pursue a music career. He made a few recordings, played clubs in Louisiana and Mississippi, and returned to Houston for construction jobs.
In the early 1960s Gilley began performing regularly at a Houston club. He built an enthusiastic local following, and in 1970, with a partner, he opened Gilley's Club in Pasadena. Gilley's became enormously popular, and in 1974 Mickey recorded his first No. 1 hit, "Room Full of Roses." The Academy of Country Music voted Mickey Most Promising Vocalist, and as one hit followed another, Billboard named him Top New Country Artist in 1975. The next year ACM chose "Don't The Girls All Get Prettier at Closing Time" as Song of the Year, while Gilley was named Male Vocalist of the Year and Entertainer of the Year.
In 1979 The World's Biggest Honky Tonk was designated ACM's Nightclub of the Year, an honor that was repeated in 1981, 1983 and 1984. An Esquire magazine article about Gilley's led to a Hollywood script and the 1980 movie "Urban Cowboy,"--starring John Travolta and Debra Winger and Gilley's mechanical bull. Mickey himself made an onscreen appearance, and "Urban Cowboy" triggered a nationwide pop culture craze. Mickey was given cameo roles in such TV series as "Dukes of Hazzard," "Murder She Wrote," "Fall Guy," and "Fantasy Island." In 1984 he was awarded a Star on the Hollywood Walk of Fame. in 1980 Gilley's Club burned. Soon Mickey became one of the first country performers to build a theater in Branson, giving new life to his fabled career.
---
Moe Bandy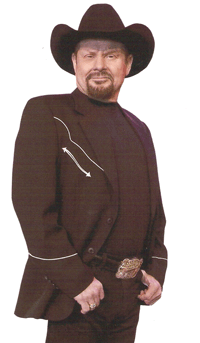 "If I'd done all the things I sing about, I'd be dead." Moe Bandy achieved stardom in the 1970s and 1980s by singing about cheatin' and drinkin' and other hardcore country subjects. His first hit, which charted No. 17 in 1974, was "I Just Started Hatin' Cheatin' Songs Today," followed quickly by "Honky Tonk Amnesia," "It Was Always So Easy (To Find an Unhappy Woman)," and "Don't Anyone Make Love at Home Anymore." In 1975 "Hank Williams Wrote My Life" soared to No. 2. The next year Moe scored No. 11 with "Here I Am Drunk Again." A 1978 duet with Janie Frickie, "It's a Cheating Situation," reached No. 1, and so did a 1979 solo, "I Cheated Me Right Out of You." "She's Not Really Cheatin' (She's Just Getting Even)" reached No. 2 in 1982. Other hard country hits included, "It Took a Lot of Drinkin' (To Get That Woman Over Me)" and "Barroom Roses."
These and similar songs celebrated the rowdy lifestyle that Moe happily sang about but largely avoided himself. "I really think my songs are about life," he explained. "There's cheating, drinking, and divorcing everywhere and that's what hardcore country music is all about." Marion Franklin Bandy, Jr. was born on February 12, 1944, in Meridian, Mississippi, hometown of the legendary Jimmie Rodgers. The little boy was nicknamed Moe by his father who moved his family to San Antonio in 1950. Moe was taught to play the guitar by his father, and his mother played piano and sang. Moe occasionally played with his father's band, the Mission City Playboys.
But Moe's greatest interest as a teenager was rodeo. He was a bronc buster and a bull rider, and he rodeoed all over Texas. Moe's brother Mike was a six-time National Finals Rodeo bull riding qualifier, and in 2007, the Bandy brothers were inducted into the Texas Rodeo Hall of Fame. Moe's bruises and broken bones added up, however, and at 18 he left rodeo and formed a country band, Moe and the Mavericks. He played throughout the San Antonio area and, with the Mavericks, backed such performers as Loretta Lynn and Bob Wills. Moe married and raised three children, and for 12 years, he toiled as a sheet metal worker during the day to make ends meet. He borrowed money to finance recording sessions, and in 1973, Moe began to score hits. By the late 1970s he was a country chart regular.
In 1979 Bandy teamed with Joe Stampley to form the Good Ol' Boys, Moe and Joe. Immensely popular, Moe and Joe were named Duo of the Year in 1980 and 1981 by the Academy of Country Music. Moe and Joe recorded seven albums, while Moe has released 35 solo albums during his career. Moe opened the Moe Bandy American Theater in 1991 in Branson, Missouri.