Goerge Jones "Ol' Possum"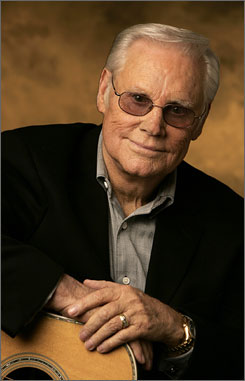 The famed Country artist nicknamed "Ol' Possum" also is known within the industry as the "Rolls Royce of Country Singers." Gary Hartman, author of The History of Texas Music, states that George Jones "is famous for his unique vocal style, which features an emotional depth and resonance rarely matched by other country singers."
The country roots of George Jones run deep. He was born in a rural log cabin near Saratoga on September 12, 1931. His father played guitar and his mother was a pianist, and George was given a guitar when he was nine. The boy liked church music, but soon was drawn to Country sounds. As a teenager, George performed on radio stations in Jasper and Beaumont. He married at 19, divorced a year later, then enlisted in the Marine Corps. Stationed in California, Jones played and sang in bars when he was off-duty. Following his discharge in 1953, George returned to Texas. He soon began a stellar recording career that has produced 13 No. 1 hits, 30 Top 5 songs, and scores of other recordings that have placed high on the Country Charts. His first hit came in 1955, "Why Baby Why," which he co-wrote.
That year he joined the Louisiana Hayride in Shreveport, co-billing with young Elvis Presley. In 1956 he was invited to join the cast of the Grand Ole Opry, and later that year the first of nearly 90 albums appeared. His first No. 1 was "White Lightning," which was released in 1959 and crossed over to the Pop Charts. Other classic hits included "The Race Is On," "She Thinks I Still Care," "He Stopped Loving Her Today," and a parade of others. Along with his parade of hits, George Jones earned a parade of awards. In 1956 he was voted Most Promising New Country Vocalist. He was named Male Vocalist of the Year in 1962, 1963, 1980 and 1981, in each year by multiple groups, such as CMA, Cash Box, and Billboard. He won a Grammy in 1980 for "He Stopped Loving Her Today" and in 1992 Ol' Possum was elected to Nashville's Country Music Hall of Fame. Among a host of other awards were Top Vocal Duo wins in 1972, 1973, and 1976, all with Tammy Wynette.
George married Tammy in 1968. In 1973 their duet, "We're Gonna Hold On," went to No. 1 and in 1976 they had two No. 1s, "Golden Ring" and "Near You." They enjoyed many other duet hits, but George was spiraling out of control. In one year he missed 54 dates, and for a few years he was called "No Show" Jones. His weight dropped from 150 to 100 pounds. But in 1983 he married Nancy Sepulvado, who helped him regain his health and his Hall of Fame career. Goerge Jones website
---
Al Dexter "Pistol Packin' Mama"
"How would you talk to a woman with a gun?" mused Al Dexter after seeing a gun-toting waitress give chase to her husband's girlfriend, "and I thought, 'lay that pistol down, babe, lay that pistol down.'" With this incident and lyric phrase in mind, songwriter-musician Al Dexter created "Pistol Packin' Mama," one of the biggest honky tonk hits of all time. Dexter already was an experienced performing and recording artist, and "Pistol Packin' Mama" launched a five-year period of phenomenal success for the East Texan.
Clarence Albert Poindexter was born on May 4, 1902, in Jacksonville. As a boy he became an adept musician, learning to play the guitar, banjo, organ, fiddle, and mouth harp, while also singing and writing songs. Beginning with local parties and barn dances during the 1920s, he moved to dance halls in Longview during the oil boom of the 1930s. Along the way he shortened his name to "Al Dexter." Dexter formed a band, the Texas Troopers, and opened the Round-Up Club at Turnertown, located in the midst of the booming East Texas Oil Field. Al and his Texas Troopers began recording in 1934, often his own compositions. In 1937 he introduced the term "honky tonk" with his song "Honky Tonk Blues."
At his own honky tonk tavern he witnessed one of his waitresses produce a pistol and chase her husband's girlfriend through a barbed wire fence. Al recorded "Pistol Packin' Mama" in 1943, and during the next 22 months it sold three million singles, as well as 200,000 copies of the sheet music. Bing Crosby and the Andrews Sisters scored a hit with the catchy tune, which was covered by many other artists. By 1944 "Pistol Packin' Mama" had crossed over to the top of the Pop Charts. In 1944 Al and the Texas Troopers hit No. 1 with "Rosalita." The next year "I'm Losing My Mind Over You" spent seven weeks atop the Country Charts. In 1946 Al moved from the Okeh label to Columbia Records. "Guitar Polka" was No. 1 for 16 weeks and crossed over to the Pop Charts, while "Wine, Women and Song" topped the Country Charts for five weeks.
During the period 1943-1948 Al Dexter received 12 Gold Records for million sellers, and in 1946 he was voted Leading Artist by the jukebox Operations of America. Lefty Frizzell and Merle Haggard were among the young artists who were influenced by Al and his honky tonk style. Al opened the Bridgeport Club in Dallas, where he performed until he retired. In 1971 he was inducted into the Nashville Songwriters Hall of Fame. Al's finest composition was "Going Home to Glory," which he did at 81 on January 28, 1984.
---
Ray Winkler "Welcome to My World"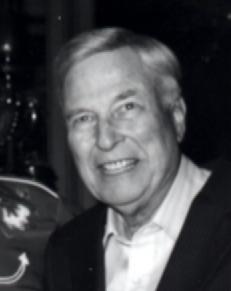 Ray was looking forward to the Texas Country Music Hall of Fame inaugural induction show in August 1998 which would honor his dear friend, Jim Reeves, and had given his blessing for the opening notes of "Welcome to My World" to be used in the logo. However, his attendance was not to be, as he passed away in May, 1998. Winkler, in collaboration with John Hathcock, wrote "Welcome to My World" for Reeves in 1961. Winkler and Hathcock wrote hundreds of songs together, and many have been recorded. But "Welcome to My World" was their masterpiece, a classic that would be recorded by more than 140 artists, and a standard that would provide definition for Jim Reeves.
Rayburn Franklin Winkler was born in Bonham on October 13, 1920. After high school he moved to Dallas to pursue a business education and a career in radio broadcasting. In 1942 he married the love of his life, Libby Carmical, and soon entered the U.S. Navy, working as a recruiter and on a public radio show in Little Rock, Arkansas. After World War II, Winkler moved to sports broadcasting and announced professional league baseball games. He then had an opportunity to become General Manager of the Lubbock Hubbers and became President of the West Texas-New Mexico Pro Baseball League.
In 1955, Ray was fortunate to get back into radio with ownership of a new radio station, KZIP in Amarillo. John Hathcock came to watch at KZIP, sharing a gift for songwriting with Winkler. One regular visitor of KZIP was Jim Reeves. Jim, like many other country artists, stopped by KZIP when they were in Amarillo for personal appearances. As a former disk jockey and minor league baseball player, he had a lot in common with Ray Winkler. Ray had hoped to write a song for Gentleman Jim, and he and Hathcock tested songs on Reeves every time he appeared in Amarillo. "You're getting better," responded Reeves.
Reeves liked the sound of "Welcome to My World," with lyrics by Winkler and music by Hathcock. Jim took the original demo by Dean Kelley to sing it on his tour bus, while playing golf and even while getting a haircut. Gentleman Jim released the first recording in 1962. Immediately popular with the public, "Welcome to My World" became a mainstay of Jim's live performances. Other artists found it irresistible. Elvis Presley, Dean Martin, Mel Tillis, Ray Price, Eddy Arnold, and more than 135 other performers covered the song, and tourists to Graceland are welcomed at the entrance by Elvis' version. It has been used in movies, TV shows, commercials, plays, and countless Ringtones. Most recent recordings include Raul Malo, Steve Wariner and several Thomson Travel commercials in London showcasing the original recording by Jim Reeves. But "Welcome to My World" belongs first and foremost to Gentleman Jim Reeves, which was the original intention of the composers. Ray fondly wrote and recorded a recitation entitled "My Tribute to Jim Reeves" which depicts the life of his dear friend. Ray Winkler website