Dale Evans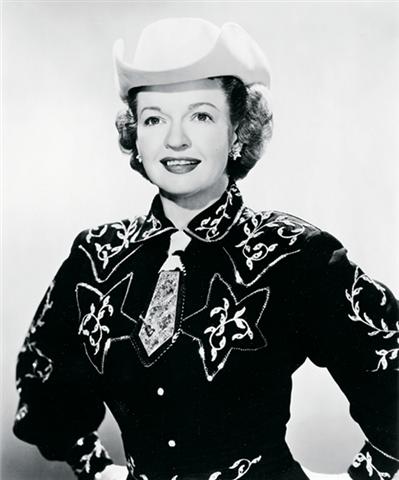 During the 1940s Dale Evans, a beautiful and talented singer-actress from Texas, established herself as Hollywood's most renowned Western leading lady. Co-starring opposite Roy Rogers, the phenomenally popular "King of the Cowboy," Dale earned international fame as the "Queen of the West." She was born Frances Octavia Smith in Uvalde, Texas, on October 31, 1912. Her father was a cotton farmer, and she also spent considerable time at the rural home of her grandparents at Italy, south of Fort Worth. When Frances was a child, she dreamed of marrying Western movie star Tom Mix. "We would have six children together," she reminisced, "then gallop our horses through the sagebrush..." She had the script right, but she would have to cast a different cowboy star as her leading man.
Frances loved to sing and dance and play the piano, and she dreamed of becoming an actress. But after the Smith family moved to a farm in Arkansas, young Frances impulsively married another teenager. Although she later gave birth to a son, Tom, the marriage soon ended. The single mother returned to her parents, who had moved to Memphis. Frances took a secretarial job with an insurance company.
Overhearing Frances singing at work, her boss arranged for her to perform on a Memphis radio show sponsored by the company. Her talents brought her rapid success as a radio singer, and soon she was hired in larger markets in Dallas and Chicago. At KHAS in Louisville, the station manager changed her name to Dale Evans. Beckoned to Hollywood, she took screen tests and was featured on a number of network radio programs. After the outbreak of World War II, Dale recorded for overseas broadcasts and performed more than 500 USO shows at Army and Navy bases in California and surrounding states.
At Republic Studios Dale began to appear in musicals and melodramas, along with a John Wayne Western. In 1944 she was assigned to a Roy Rogers film, Cowboy and the Senorita. Roy and Dale had an obvious on-screen chemistry, and fan mail poured in praising his lovely new leading lady. Dale would co-star in 28 Roy Rogers movies, and in 1947 she made the first of four appearances on the Top Ten List of Money-Making Cowboy Stars. Roy reigned as Number One for 12 years, and in the 19 years that this list existed, Dale was the only female ever named to the Top Ten.
In 1946 Roy's wife died after giving birth to their third child. Roy and Dale married on the last day of 1947, and eventually added four more children--three by adoption--to their large family. Sadly, three of their nine children died, by illness or accident. Roy and Dale increasingly relied upon their Christian beliefs and Dale became an important inspirational author and speaker. From 1951 through 1956 Roy and Dale co-starred on a popular television series, The Roy Rogers Show, and her most famous composition, "Happy Trails," became the show's theme song. After more than 50 years of marriage, Roy died in 1998 and Dale died in 2001.
---
Charlie Walker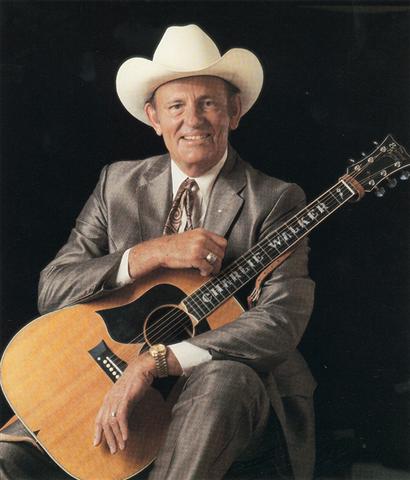 During his long and varied career, Charlie Walker has been a recording star, noted deejay, championship golfer, golfing broadcaster, and Las Vegas emcee. As a young serviceman, Charlie even introduced Country Music to Japan. Charlie Walker's country roots are authentic. Born on November 2, 1926, he was brought up on a Collin County cotton farm near Nevada, north of Dallas. Encouraged by his father to pursue a musical career, Charlie sang and played guitar. As a teenager he began working with Bill Boyd and His Cowboy Ramblers. Then, in 1943, he took a deejay job with KIOX Radio in Bay City.
After being discharged from the Army, Charlie resumed his deejay career with KMAC Radio in San Antonio. His deep understanding of music led him to be listed for ten years by Billboard as one of the Top Ten Country deejays in the United States. But he continued to perform, and in 1956 his Decca recording of "Only You, Only You" made it to the Top Ten on the Country chart. Soon signed to a Columbia contract, he responded with his biggest hit, "Pick Me Up On Your Way Down." Charlie became a popular member of the Grand Ole Opry in 1967. His Las Vegas performances were so well-received that the Golden Nugget engaged him as an emcee-performer for twenty-five weeks a year during the mid-1960s. An avid golfer, he regularly finished near the leaders in the Las Vegas Sahara Invitation, and in 1966 he won Nashville's Music City Pro-Celebrity Tournament.
With a friendly and easy-going temperament, Charlie long has been a favorite of his fellow performers, as well as a crowd-pleaser, whether the crowd has been radio listeners or a golf gallery or a Las Vegas audience.
---
Bob Wills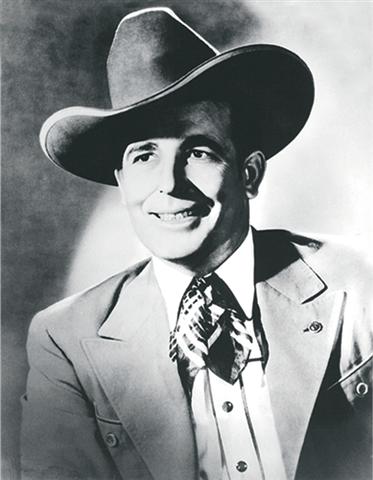 "The Texas Playboys are on the air!" A generation of Country Music fans welcomed this radio announcement into their homes, knowing that soon they would hear such standards as "San Antonio Rose" or "Faded Love" or "Bubbles In My Beer." And if they were able to see the Texas Playboys in person, they could scarcely keep their eyes off the energetic band leader. Wearing a big white hat and chomping on a cigar, fiddle-playing Bob Wills strutted in front of his band, grinning and shouting, "Ah, Ha!" and pointing to musicians for their instrumental breaks. Dominating every performance, Bob Wills proved over and over that he was the "King of Western Swing."
James Robert Wills was born on a farm near Kosse, Texas, on March 6, 1905. "Jim Rob" was the first of ten children, and in 1931 his parents moved their growing family to a cotton farm near Memphis in West Texas. His father, John Wills, was a country fiddler, and there were other fiddlers on both sides of the family. Jim Rob began playing as a boy, and for years he and his father were in great demand around West. Texas
In 1929 young Bob Wills moved to Ft. Worth, began calling himself "Bob," and hooked on with a medicine show. A natural leader, he soon organized the Wills' Fiddle Band, then the Alladin Laddies. In 1931 they were hired by W. Lee O'Daniel, manager of Burris Mill (and future Texas governor), to advertise Light Crust Flour over WBAP Radio. Changing the group's name to the Light Crust Doughboys, they appeared over a growing number of stations and began to record for Victor. But O'Daniel prohibited the band from playing for dances, beginning a series of clashes with Wills. Bob left the Doughboys in 1933, taking vocalist Tommy Duncan and organizing the Playboys. His new band played over WACO in Waco for a time, then moved to Tulsa, Oklahoma.
Broadcasting over KVOO as "Bob Wills and His Texas Playboys," the group enjoyed soaring popularity. An excellent judge of talent, Bob enlisted gifted musicians, then extracted innovative performances from them. It was the Big Band era of popular music, when Dixieland jazz evolved into the larger sound of "Swing." Wills added reeds and drums to his band, blending jazz and country into the lively sounds of "Western Swing." By 1940 Wills had expanded the Texas Playboys to 18 pieces and had begun to record a string of legendary hits. In that same year singing cowboy star Tex Ritter persuaded Bob to appear with him in Take Me Back to Oklahoma, the first of several film appearances. He often collaborated with gifted songwriter and fellow Texan, Cindy Walker.
Bob's enormous success was diluted by personal difficulties. He struggled with a drinking problem and with seven marriages, and after a series of strokes, he died on May 3, 1975. But his latter years were highlighted by a series of honors, and he realized that he was widely appreciated. When he was inducted into the Country Music Hall of Fame to 1968, for the first time in his long career Bob Wills doffed his white hat to an audience.