Bob Luman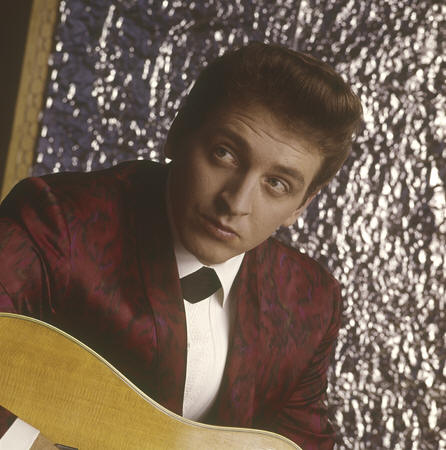 Bobby Glenn Luman was born in Nacogdoches on April 15, 1937. Throughout his boyhood he was fascinated by sports and he excelled as a baseball player. But music also exerted a deep appeal for Bobby Glenn. His father was an accomplished musician who taught Bobby Glenn to play several stringed instruments, including guitar. Impressed by Country stars of the day, he modeled his singing style after his special friend, Lefty Frizzell. The family moved to Kilgore, where Bobby Glenn became a star on the KHS Bulldog baseball team. The young athlete attracted the attention of pro scouts, but he could not resist the pull of music. Attending a country music package show, Bobby Glenn was profoundly affected by the wild performance of young Elvis Presley. Girls in the audience were driven into frenzies by the gyrations and rockabilly sounds of Elvis. "That was the last time I tried to sound like Left Frizzell," recalled Luman.
Bobby Glenn formed a band and, strongly influenced by rockabilly, began playing at school dances and in nearby clubs. After winning a talent contest, he was booked onto the Louisiana Hayride in Shreveport. Doors opened rapidly for the handsome Texan with the rich, velvety voice. Bob Luman became a regular member of the Louisiana Hayride. He went to Hollywood for a small part in the 1957 motion picture, Carnival Park. In Las Vegas he performed at the Showboat Hotel on a show with Tex Ritter and Johnny Cash. Despite these successes, a recording contract with a major label failed to produce any hits. Frustrated, Luman announced onstage at a performance that he had decided to leave country music and sign a minor league baseball contract with the Pittsburgh Pirates. Fortunately, the popular Everly Brothers were in the audience. They persuaded Luman to give country music one more try with Let's Think About Living--which sold one million copies.
After a 2-year stint in the military, Bob Luman toured the United States as well as in Europe and Japan. But Luman's heavy schedule eroded his health. In 1975, he had a heart attack and spent 5 months recuperating at Parkland Hospital in Dallas. He was released and resumed touring and recording, but he contracted pneumonia and died on December 27, 1978 at the age of 41.
---
Red Steagall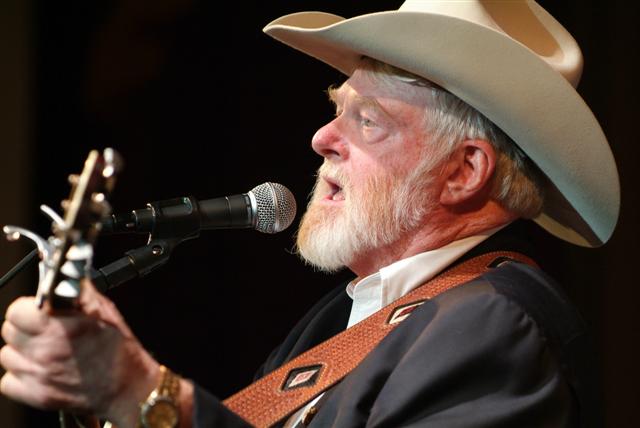 Long known as the Cowboy Poet of Texas, Red became the first cowboy poet to be designated as the state's poet Laureate. Russell Steagall was born on December 22, 1937, in Gainesville, Texas. The family moved to West Texas, settling in the ranching community of Sanford. Fascinated by cowboys and rodeos, Red became a bull rider as a teenager. But when he was 15, he was stricken with polio. To rehabilitate his left arm and hand, Red began playing the guitar and mandolin, quickly demonstrating talent as a performer and composer.
Red enrolled at the university now known as West Texas A&M, and he organized a country band to help pay college expenses. Graduating with a degree in animal science and agronomy, he took a job selling agro-chemicals. But at night and on weekends he continued to perform, and in the mid-60s he moved to Los Angeles to focus on a music career. Red performed at clubs in the LA area and wrote songs. In 1967 Ray Charles scored a hit with Red's Here We Go Again, which also was covered two years later by Nancy Sinatra.
Through the years more than 200 of Red's songs have been recorded by such big name artists as Dean Martin, Roy Clark and Johnny Duncan. While performing at the 1974 National Rodeo Finals in Oklahoma City, Red discovered Reba McEntire. He brought her to Nashville, introducing her to friends and helping record her first demo tape. Red plays as many as 100 rodeos per year. Touring at least 200 days annually for the past 30 years, Red has appeared in Europe, the Far East, South America, and the Middle East. In 1983 he performed for President Ronald Reagan in the White House.
---
Johnny Rodriguez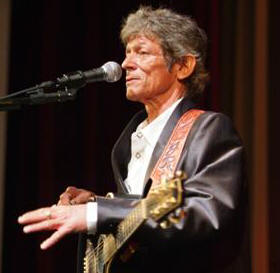 Johnny Rodriguez burst onto the music scene during the 1970s as the first Chicano Country artist and remains the greatest and most memorable Chicano Country singer of all time. Juan Raoul Davis Rodriguez was born on December 10, 1951, in Sabinal, in South Texas. He was the second youngest of ten children. The family had lived in a four-room house, and Johnny was an altar boy. When Johnny was seven, his older brother, Andres, bought him a guitar. Johnny became a fine performer and formed a band when he turned 16. But that same year his father died of cancer and the next year Andres was killed in an auto crash.
Although Johnny was a letterman on his high school football team, the loss of his father and brother sent him spiraling into trouble. Jailed four times by the age of 18, Johnny was overheard singing in his cell by famed Texas Ranger Joaquin Jackson. Captain Jackson intervened on Johnny's behalf with Happy Shahan, who had built Alamo Village in Bracketville for John Wayne's movie, The Alamo. Shahan operated Alamo Village as a popular tourist attraction, and he hired 19-year-old Rodriguez as a singer and stagecoach driver.
In 1971, his act was heard by Tom T. Hall and Bobby Bare, who were on tour in the area. Hall and Bare brought Johnny to Nashville, where he became a lead guitarist in Tom's band. Hall helped Johnny sign a recording contract. After his first single, Pass Me By, reached the Top 10, the Academy of Country Music voted him "Most Promising Vocalist." In 1973, all three of his releases soared to number 1: You Always Come Back, Ridin' My Thumb to Mexico, and That's the Way Love Goes. In 1975, all three of Johnny's releases hit No. 1: I Just Can't Get Her Out of My Mind, Just Get Up and Close the Door, and Love Put a Song in My Heart. During the early 1980s Johnny suffered severe injuries in a karate accident, problems with his vocal cords, and the personal trauma of a marriage breakup. But he struggled through these troubles and again began producing hits. He has recorded 26 hits.